The Isobel Award 2021 Winner
The Super Power Agency
Carlowrie Castle launched the eponymous Isobel Award in 2019 and it is now in it's third year. The award celebrates those who have faced challenges and not only risen to meet them but who have excelled and brought meaningful positive change in their wake. The Award champions those who have overcome adversity to make a positive contribution to their community. Previous winners of the Award are Karen Darke, British Paralympian (karendarke.com), and to 17 year old Amy Bray, founder of environment charity Another Way. (another-way.org.uk).
The 2021 Isobel Award was due to be held at Carlowrie Castle on the 29th of May, but restrictions on social gatherings mean that we are unable to hold the ceremony on this date. The spirit of the award is perhaps even more prevalent this year as it celebrates inspiration from adversity, and we are delighted to announce that The Isobel Award 2021 goes to charity The Super Power Agency (superpoweragency.com) who champion an initiative to inspire 8-18 year old Scottish pupils to get excited about writing, combat illiteracy and most importantly inspire confidence in our future generations. The Super Power Agency will receive a £2,500 bursary, and more importantly Carlowrie has exciting plans to collaborate with them on arts and learning projects soon.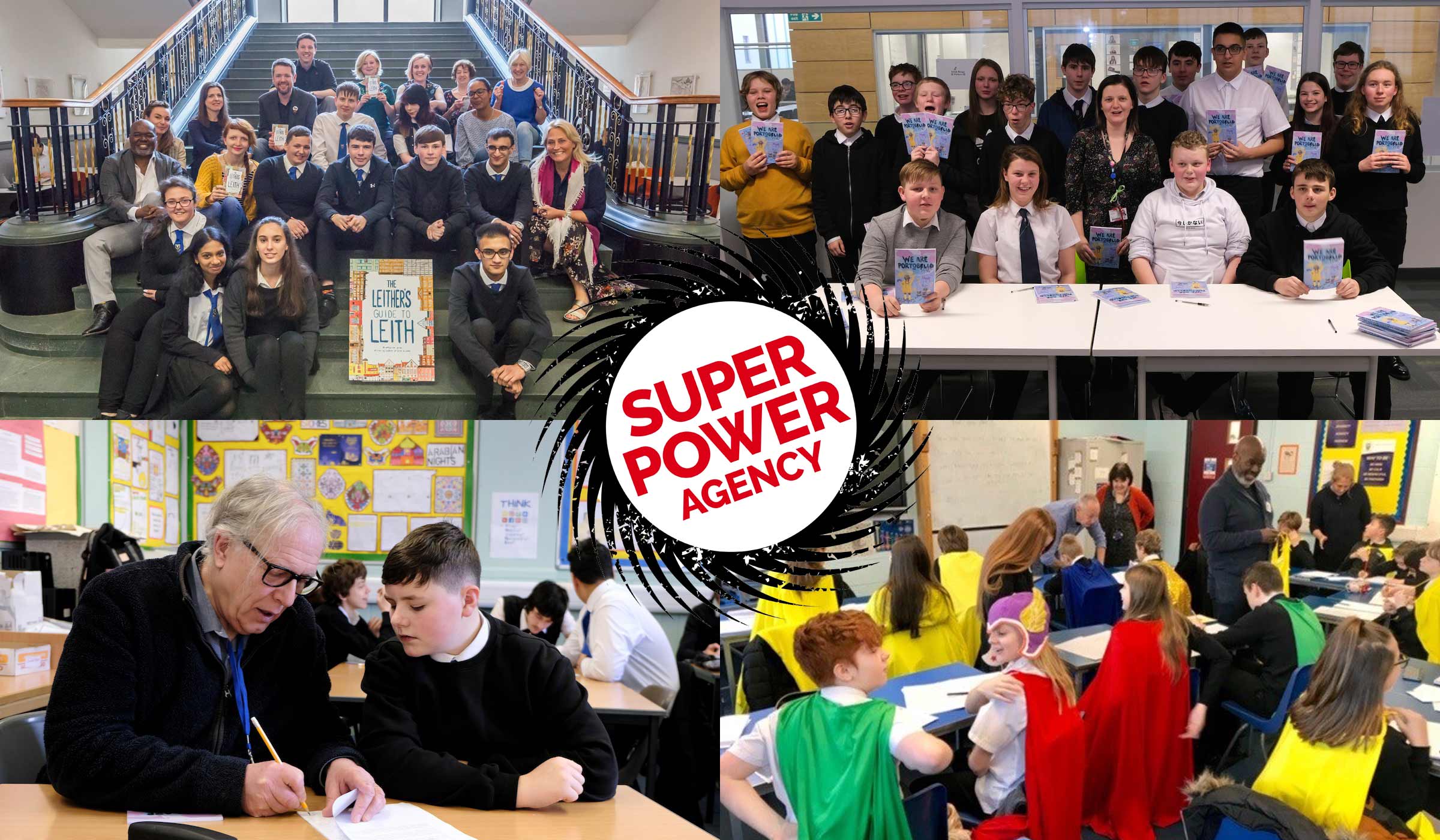 TIA panel were introduced to The Super Power Agency late on in the selection process, however it was immediately apparent that the enthusiasm and inspiration from the small team has already made a difference in their three short years. Originally planning to offer the programme to only a couple of schools in Edinburgh, their determination and character has driven that number to 12 schools in Edinburgh currently, with 5 more imminent and talks of already expanding to other Scottish cities.
In an age where children are fed information visually and express themselves electronically, one quarter of Scots pupils leave school functionally illiterate. The Super Power Agency works to not only reverse that trend, but to give children the confidence to immortalise their feelings, thoughts and emotions on paper, and become published authors. The Agency have produced several volumes written by their students with several selling out in shops. Working alongside schools and within the national curriculum, pupils are mentored and motivated in the scheme with a huge positive result individually and for the community.
Congratulations to The Super Power Agency, proof that a few small steps begin a fantastic journey, and we are excited to work with them in future projects as they grow. We hope to collaborate in the near future in Carlowrie on physical art and literature projects that continue Isobel's own journey 100 years ago as a poet, author and traveller who inspired and united communities through her own passion and strength.
Isobel Wylie Hutchison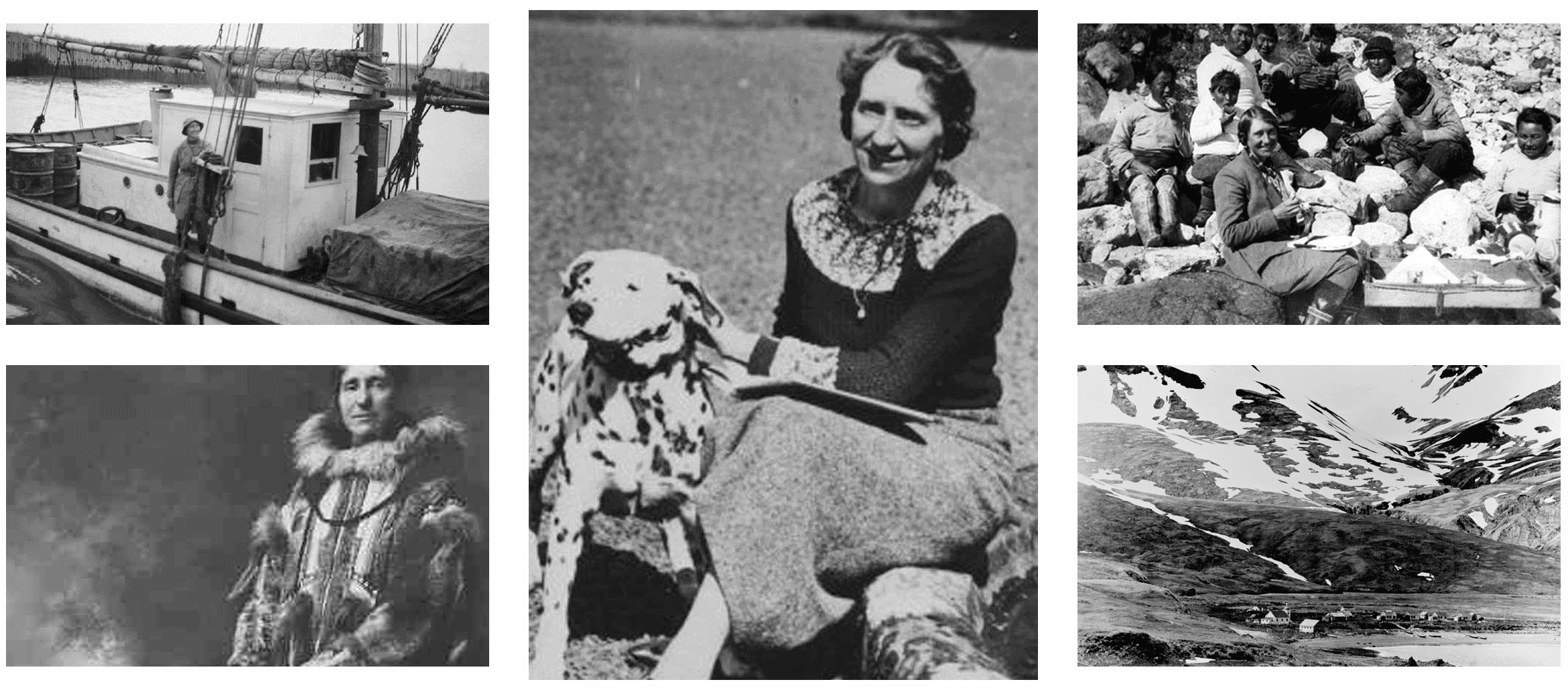 Isobel Wylie Hutchison was the longest resident and owner of Carlowrie Castle. As a child, Isobel lost her beloved father and two brothers in quick succession. Her grief and emotional fragility in the wake of these events is in part what spurred her towards her future, but Isobel faced other challenges as she contemplated the life of an explorer and researcher. It was the early 1920s. Few women could vote and the majority were not given the opportunity to venture beyond the domestic sphere. Isobel's mother, and society at large, saw the only acceptable future for Isobel as one of matrimony and children. Striking out against such fiercely held tradition and conservative values, Isobel confounded society by travelling to regions of the world that were widely considered unsuitable and indeed unsafe for travel: the frozen expanses of the Arctic, the interior of Iceland, the wilds of Greenland, Alaska.
Having chosen this path, Isobel threw herself into it with curiosity and passion. Isobel funded her travels through her interest in botany and her travel writing. Initially, she presented herself as a botanist to cross the strictly controlled borders of Greenland. Thereafter she discovered that there was considerable interest in her specimens. Throughout her expeditions, Isobel gathered thousands of botanical specimens, sending them back to the Royal Botanical Gardens at Kew and Edinburgh, the Natural History Museum in London, Research Laboratories at Oxford University and private collectors.
Isobel was a prolific writer whose accounts of her travels opened up the places she travelled to new audiences, bringing these remote regions a little closer to the experiences and minds of her readers back in Britain. Isobel was committed to understanding indigenous peoples by living amongst them, exchanging haggis for seal meat and learning their languages and customs. While living in a Greenlandic village Isobel captured footage which is recognised as being some of the first documentary film footage ever recorded, simply celebrating people in their everyday lives.
Isobel earned the respect and endorsement of some key figures within the explorer community. In 1934 Isobel became one of the first recipients, and the first woman, to be awarded the prestigious Mungo Park Medal by the Royal Scottish Geographical Society. The award recognises significant contributions to geographical knowledge, often acquired at grave personal risk. It was presented to her by none other than the future King George VI. National Geographic also expressed a keen interest in her work and published a number of her articles.